Размер единый
SIZE One

FINISHED MEASUREMENTS
Depth: 15.75 inches
Width at Bottom Edge: 57.75 inches
Width at Top edge: 26.75 inches

MATERIALS
Yarn
spacer Lakes Yarn and Fiber Alturas [60% Merino, 20% Silk, 20% Yak 400 yards / 100 grams]; Framboise; 1 skein

Recommended needle size
[always use a needle size that gives you the gauge listed below — every knitter's gauge is unique]
spacer 1 32 -inch US #4/3.5mm circular needle

Notions
spacer stitch markers
spacer yarn needle


GAUGE
23 sts/30 rows = 4 inches in stockinette stitch


PATTERN NOTES
[Knitty's list of standard abbreviations and techniques can be found here.]

The shawl is worked from the top down.

To change the finished dimensions of the shawl, add or subtract groups of 14 stitches from the cast on number, to increase or decrease the number of repeats. Each repeat adds 3 1/2 inches to the top edge, and 9 inches to the bottom edge.

CDD: Slip 2 sts together (as if to k2tog), k1, then pass 2 slipped stitches over.


Cast on 105 sts.

Work to Rows 1-10 of Setup Chart. 147 sts when chart is complete.

Work Rows 11-65 of Main Chart. 273 sts when chart is complete.

Work Rows 66-73 of Bottom Chart twice, or to desired length.

Knit 2 rows.

Bind off loosely.

FINISHING
Weave in ends and block to desired measurements.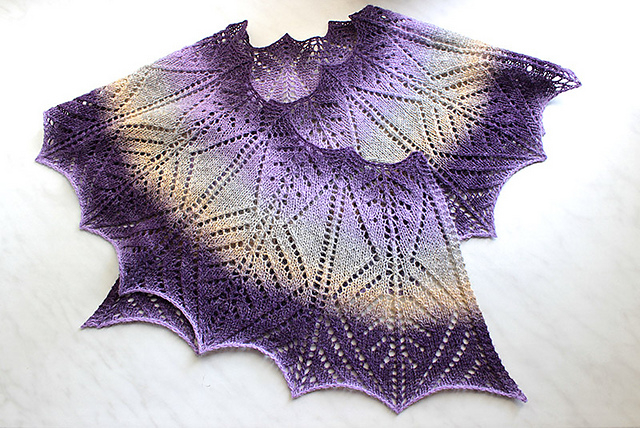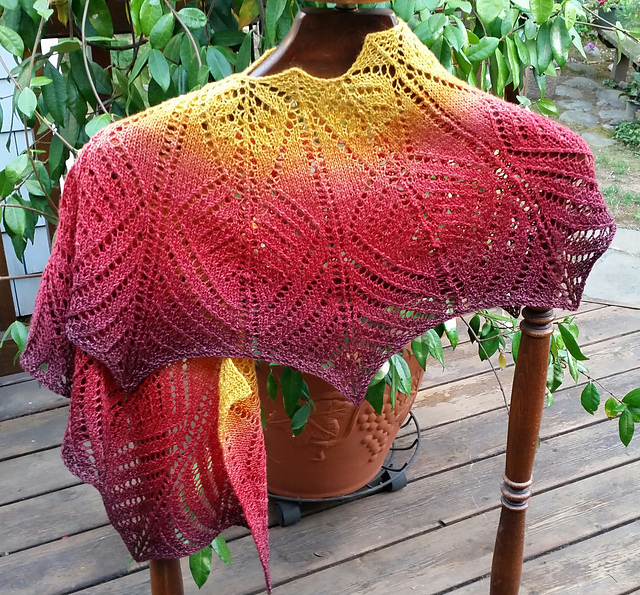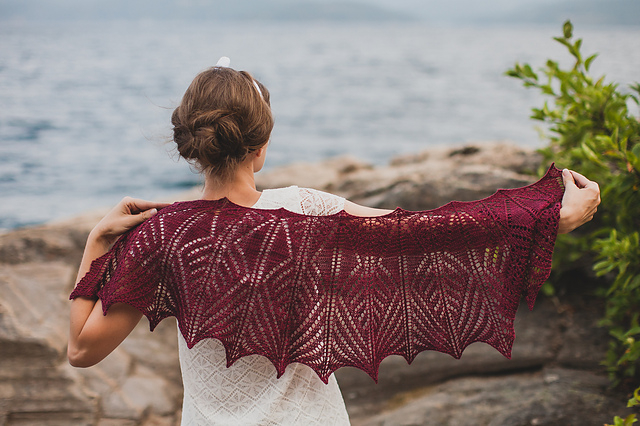 Источник: http://www.knitty.com/ISSUEdf15/PATTtartessos/PATTtartessos.php
:http://www.ravelry.com/patterns/library/tartessos?buy=1